Our desire to give back
Corporate Visions' donation and volunteering programs grew directly out of the commitment that Corporate Visions employees feel toward their own communities. The entire company embraces principles of Samurai and the understanding that our success comes with the responsibility to give back to our community. This is why Corporate Visions has dedicated itself to offering the chance to make an impact through 2 simple donation options.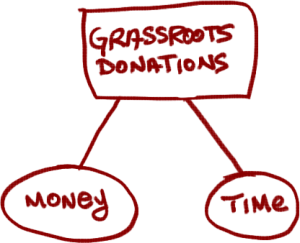 Two ways to donate
Donate your Money
Donate your Time
Donate your Money
When you donate your money to a charity, Corporate Visions will recognize your donation, and match it up to $2,000 per year per employee. Read more about eligibility and apply for a donation today. Go now>>
Donate your Time
Time is money, and Corporate Visions will now pay you to work toward the cause of your choice. Each year, every CVI employee will have two full work days to volunteer outside of the office. Here's your chance to get your hands dirty and show your organization just how much you care. To use your two days, simply get approval from your supervisor and let us know the dates when you will be volunteering.   Go Now>>
What's going on?
Have you come across any opportunities for CVi employees to to volunteer their time?
If so, use the comment function of this page to suggest a few. Please include the following information:
Position title or specific activity
Organization
When needed
Can this project be completed remotely?
Submit a donation match