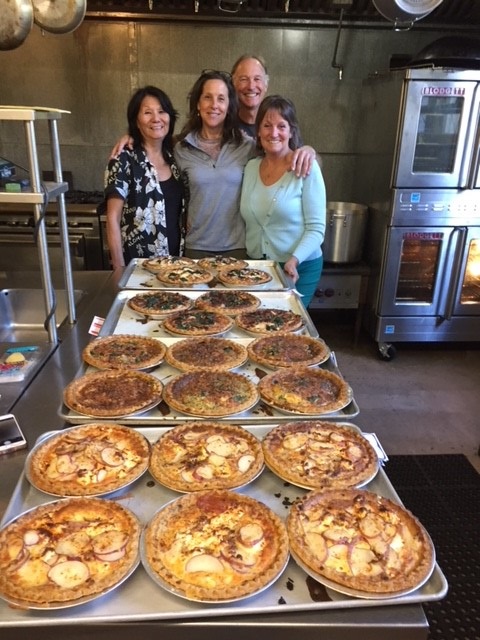 Since our Breast Cancer Prevention Partners Peak Hike was cancelled, due to poor air quality on Mt. Tam, a group of us decided to put our volunteer time to help a new  evacuation center opened up in Santa Rosa for the first responders and the fire victims.
Today, Saturday, October 14th, CVI purchased the ingredients for making 20 quiche for $155, Jen O'Mara of San Rafael Elks asked to use the Elks' kitchen, and we quickly recruited 8 people to help make 3 different types of quiche in 3 hours.  We started at 1:00 pm and all 20 were ready by 4:00 pm.  Fresh out of the oven, 20 quiche were delivered to a kitchen in Novato where Francisco Ramirez and another team made 150 sandwiches also for the victims in Santa Rosa .
Here is the Quiche Team at San Rafael Elks Lodge in San Rafael:  left to right- Melann Mushet, Elk and Ukulele player; Joan Corey – Ukulele player, Charlene Loen -Ukulele player; Jen O'Mara – Elk and head chef; Charlotte Kobayashi- Elk and Ukulele player; Ralph Loan- Ukulele Player; Laurel Botsford – Elk member and SharedHope for Human Trafficking.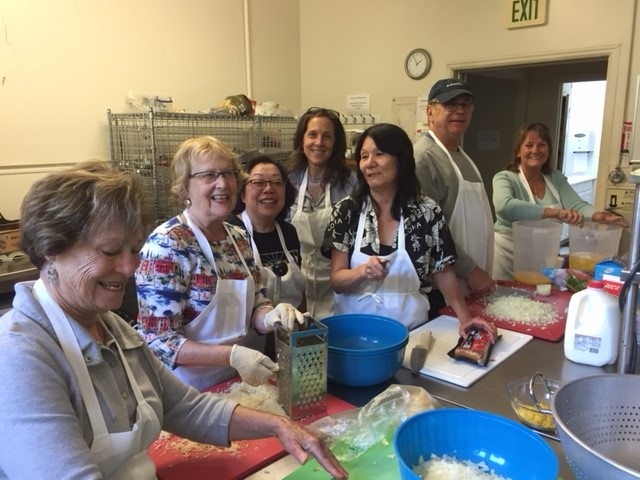 Extra kudos to Francisco for taking the extra step and delivered the sandwiches and the quiche to the Santa Rosa evacuation center just in time for dinner, before 6 pm!  He reported that the prepared food was greatly appreciated as there were just snacks [pretzels] and drinks at the center!  This was truly two great cooking teams working in different locations for the same purpose – to serve the fire fighters and fire victims.
We are doing another fundraiser on October 28th at the Tam Junction Starbucks in Mill Valley.  We will suggest using funds raised at this event to provide more food for the fire fighters and victims.
[By Charlotte Kobayashi]